For presentation and booking information, please contact   ellabardpressinc@gmail.com
---
Dr. Ryan Thibodeau, Associate Professor at St. John Fisher College, uses Leaving Dorian as a reading choice in his PSY211 Society & Mental Illness class.
Education: Ph.D., Syracuse University/B.A., University of Southern Maine
Areas of expertise: Clinical psychology, psychophysiology
Research interests: Emotion; approach/avoidance motivation; personality and health
Dr. Thibodeau is also Director of the Psychophysiology Laboratory at SJFC.
Dr. Dana L. Radatz, Assistant Professor at Niagara University, uses Leaving Dorian as a required text in her CRJ585 Domestic Violence class. Dr. Radatz earned her doctorate in Criminology and Criminal Justice from the University of Nebraska at Omaha and her undergraduate and master's degrees from Eastern Michigan University.
Dr. Radatz has taught an array of courses at the undergraduate and graduate level, such as Victimology, Violence, Criminological Research Methods, Women & Crime, Domestic Violence, and Policy Paper.
Dr. Radatz's research interests include batterer intervention programs, corrections, evidence-based practices, female offenders, and a wide range of victimizations (e.g., domestic violence, prostitution, rape/sexual assault).  Her most recent work examines domestic violence offenders and the effectiveness of batterer intervention programs using correctional evidence-based techniques. Dr. Radatz's recent publications have appeared in Trauma, Violence, & Abuse, Journal of Interpersonal Violence, and the American Journal of Community Psychology.
Dr. James Sutton, Associate Professor of Anthropology and Sociology at Hobart and William Smith Colleges, uses Leaving Dorian as a required text in his SOC224 Social Deviance class. Dr. Sutton earned his B.A. from California State University, Long Beach and both his M.A. and Ph.D. from Ohio State University.
Dr. Sutton also teaches Criminology, Juvenile Delinquency, Introduction to Sociology, Men and Masculinities, Research Methods, Sociology of Sport, Topics in Prisons and Prison Education (Readers College). Professional Affiliations include Academy of Criminal Justice Sciences, American Society of Criminology and International Association for Correctional and Forensic Psychology.
Dr. Angie Moe, Professor of Sociology at Western Michigan University, uses Leaving Dorian as a required text in her SOC4950 Family Violence class. Dr. Moe earned her B.A. in Criminal Justice from the University of Wisconsin-Eau Claire, her M.S. in Criminal Justice from the University of Wisconsin-Milwaukee and her Ph.D. in Justice Studies, Law and the Social Sciences from Arizona State University.
Dr. Moe is affiliated with and serves on the advisory board for the Department of Gender and Women's Studies. She approaches her research primarily through a feminist qualitative epistemology that lends itself to in-depth interviewing, participant observation and field research. Dr. Moe holds memberships in several professional organizations and serves on the board of directors for the Kalamazoo County Child Abuse and Neglect Prevention Council.
Jennie Alessi, (CSDR, CJA) Professor of Criminal Justice at Hilbert College. Jennie earned her BS in Conflict Studies/Dispute Resolution in 2014 and and her MS in Criminal Justice Administration in 2016, both from Hilbert College.
Jennie is a New York State Certified Police Officer as well as a New York State Certified Police Instructor. She has been an instructor for the Rural Police Training Academy since 2003. Along with a conventional instructor certification, Jennie holds specialized New York State Certifications in Domestic Violence, Sex Crimes, Child Abuse and Exploitation, Child Fatality Investigations, Community Policing, D.A.R. E, School Police Leadership and Crime Prevention. She authored the curriculum and lesson plan for the New York State Department of Criminal Justice titled "Law Enforcement's Response to Missing and Exploited Children."
Jennie previously held the position of Chief Investigator for the Cattaraugus County District Attorney's Office, under the direction of the Honorable Edward Sharkey, District Attorney. She was the first and only female, to date, to hold the position. A SART (Sexual Assault Response Team) member for Cattaraugus County. Jennie Alessi also served as a School Resource Officer and Chief Campus Safety Officer for the Gowanda Central School District.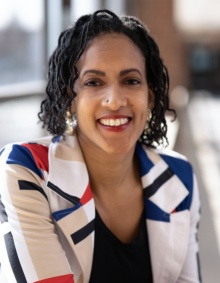 Dr. Noelle M. St.Vil, Assistant Professor, joined the UB School of Social Work faculty in 2015. Dr. St. Vil earned her BA in Religious Studies from California State University Northridge in 2005. She received her Doctorate in Social Work from Howard University in 2012 and completed a postdoctoral fellowship focused on violence in the family at Johns Hopkins University School of Nursing.
Dr. St. Vil's research focuses on black male-female relationships, including intimate partner violence, man sharing, and other dating and marital issues. Utilizing the National Survey of American Life (NSAL), her dissertation study investigated the relationship between the social networks of Black married couples and marital satisfaction. Additional research endeavors include a comparison analysis of intimate partner violence among Black women in Baltimore and the U.S. Virgin Islands; reproductive coercion and safe sex; and an exploration of long-term marriage among African American, African Caribbean immigrant and African immigrant couples. In addition to publishing in these areas, she has worked as the project coordinator on several grant-funded projects pertaining to violence against women and healthy relationships. Dr. St. Vil will be using Leaving Dorian as a required text in her graduate level Human Behavior class.
Mo Therese Hannah, Ph.D. is a Professor of Psychology at Siena College, where she has taught since 1992. She is a licensed New York State psychologist practicing with older adolescents and adults. She is an Advanced Imago Relationship therapy Clinician and serves as an Academic Faculty member of Imago Relationships International. Her clinical and research interests revolve around couples therapy, intimate partner violence, and transpersonal psychology.. She serves as the Editor of Family and Interpersonal Violence Quarterly and has published seven books and numerous chapters and articles. In 2004, she co-founded, continues to serve as Chair of the annual Battered Mothers Custody Conference. Dr. Hannah recommends Leaving Dorian as an ancillary read  in her "Intimate Relationships" class.
Robert Keefe, PhD. 
joined the UB School of Social Work faculty as an associate professor in 2005 from Syracuse University. 
In addition to teaching several courses centering on mental health, health and interventions, Keefe is also the faculty liaison and academic advisor for the MSW/MPH dual degree program. With his current project, "Postpartum Depression among New Mothers of Color," funded by the Fahs-Beck Foundation of the New York Community Trust, Keefe endeavors to build comprehension of and improve health care delivery for mothers of color. His significant contributions to the field have earned him high honors; in addition to being selected as the Public Health Social Worker of the Year by the American Public Health Association in 2011, he was also named a Fellow of the New York Academy of Medicine in 2013.
Keefe received his PhD from the University at Albany's School of Social Welfare subsequent to earning an MSSA from Case Western Reserve University and a BA in sociology from Ithaca College.
The Niagara County Law Enforcement Academy (NCLEA) at Niagara University is a partnerships between the Niagara County sheriff's Department, Niagara Falls Police Department and Niagara University's Criminal Justice and Continuing Education Departments. Administered through Continuing Education, the Academy trains currently hired, sworn officers and has been approved by the Division of Criminal Justice Services (DCJS) to train pre-employment recruits. It is designed for current civilians throughout New York State who are interested in entering the law enforcement field. The Academy has chosen to utilize Leaving Dorian as a required text for all new recruits. They will also be using it in their Continuing Education block for currently hired, sworn officers.
Dr. Danielle Slakoff, Loyola University at New Orleans, Assistant Professor of Criminology
Dr. Chris St. Vil, Assistant Professor, University at Buffalo School of Social Work